Time: 6.43 p.m. CEST Latest update: March 5, 2014 3.01 pm. CEST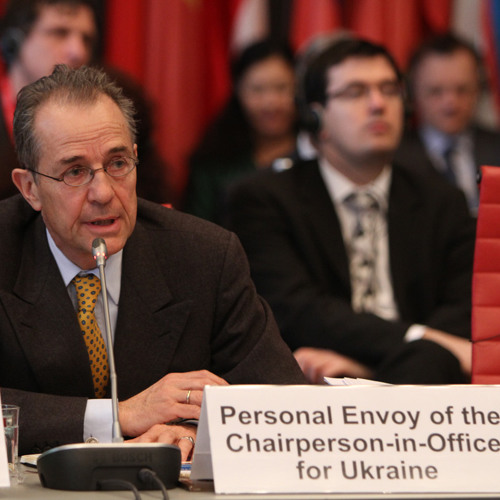 Organization of Security and Cooperation in Europe decide to send 35 unarmed military personnel in response to Ukraine's requests. The mission will be from 5 to 12 March 2014, and starts in Odessa. On March 6 they traveled from Odessa to Crimea.
OSCE participating 21 countries out of 57 decide to send observers in Ukraine. This decision came on the Forum for Security and Cooperation in Vienna on March 4, 2014, and it is the first time activation of this mechanism.
Canada, Czech Republic, Denmark, Estonia, Finland, France, Germany, Hungary, Ireland, Latvia, Lithuania, Norway, Poland, Slovakia, Sweden, Turkey, United Kingdom, and the United States will send observers under OSCE mission.
Russian Ministry of Foreign Affairs tweeted Sergey Lavrov statement Russia can not decide on mission in the foreign territory.
The USA welcomes Ukraine government to use an international instrument and to invite OSCE monitoring mission from other participating states under the Chapter III of Vienna Document. The USA accepts this, and it will provide two observers. The U.S. Representative to the Organization for Security and Cooperation in Europe, Ambassador Daniel B. Baer states this on a joint meeting of the Permanent Council in Vienna in March 4, 2014.
"The effort to engage in direct dialogue under the Vienna Document in Chapter III was invoked last Friday, and we too found the response unsatisfactory, given the coincidence of the massive exercises as well as the military action taken against the sovereign territory of Ukraine," states Ambassador Baer.
He says it is not coincidence in the Russian military exercise of 150.000 people at the same time with the Ukraine crisis illegal "incursion on Ukraine's territory."
Organization for Security and Cooperation in Europe considers a possibility to form a Contact group and a monitoring mission that will make an objective assessment what is happening in Ukraine, aside Monday March 3, 2014 approved mission of ODIHR monitors for the presidential elections scheduled for May 25, 2014. Ambassador Tim Guldimann, a personal envoy of OSCE briefed participating states on the special meeting of this organization in Vienna on Monday.
According to Ambassador Guldimann, OSCE Permanent Council has not any final decision on that, although "something needs to be developed on the ground." Ambassador Guildmann visited Kiev recently and give to other ambassadors his view on the situation. He plans to go again in Ukraine and eventually in Crimea in order to see the probability for the monitoring mission and possible decision of the OSCE Permanent Council.
"It seems that the Contact group is something that becomes visible, " states Guldimann, who thinks high level contacts already discussed all these possibilities.
For Ambassador Guldimann, it is important the institution of the High Commissioner on National Minorities Astrid Thors to continue with the work, as he or she had "extended experience with respect to Crimea." He recalled on Max Van der Stoel efforts 20 years ago in getting the settlement.
Max Van Der Stoel, who was first OSCE High Commissioner on National Minorities, worked in Crimea Region, especially in the part of right guarantees of Crimea's Tatars population. Crimea's mixed population consists of Russians, mostly Orthodox, Ukrainians, which are Catholics and Tatars Muslims.
Permanent Representatives of Russia in OSCE Andrey Kelin says international missions may do more harm than good. In response to the Ambassador Kelin remarks, Assistant Secretary of State, Victoria Nuland states as "incorrect and inaccurate to assert either nations of the West destroyed the February 21, 2014 Agreement, or that current "government in Ukraine is illegitimate." Nuland underlines possible OSCE role in "the opportunity to assist Ukrainian authorities with demobilization of irregular forces on the streets of Ukraine and the collecting of weapons."
Despite OSCE possible interests on demobilization of irregular forces, the Council of Europe's Human Rights Commissioner Nils Muiznieks stated all who used excessive force in Ukraine should "not go unpunished."
"In a report about his February 5-10 official visit to Kiev, Muiznieks said excessive force used against peaceful protesters had injured hundreds of people and that at least 10 people lost their eyes because of rubber bullets, " publishes Turkish Anadaoly Agency.
In the February 21, 2014 Agreement all sides involved in Ukraine crisis agreed that Council of Europe should investigate the cases of deaths and excessive use of force during February unrest in which about 80 people died and about 500 were injured.
Dunja Mijatovic, OSCE Representative on Freedom of the Media visits Crimea region on March 5, 2014 and will meet media associations and local journalists.
Related links:
Full speech of Ambassador Tim Guldimann